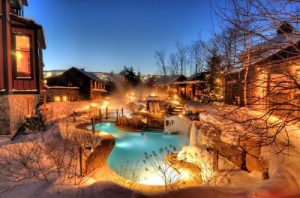 This multiple award-winning Ontario Spa offers the renowned Scandinavian Baths experience. Nestled in a natural forest, minutes from downtown Collingwood, Blue Mountain Resort and the fresh water of Georgian Bay, the Spa is open all year from 10am-9pm for adults 19+ yrs. old. Guests enjoy the escape from their every day world and enter into the serenity of the natural outdoor environment. The renowned Scandinavian Baths include a Finnish Sauna, Eucalyptus Steam Room, Thermal & Nordic Waterfalls, Hot Baths, Cold Plunges & relaxation areas. Also available are Registered Massage treatments, relaxing getaway packages & an on-site bistro serving healthy local fare..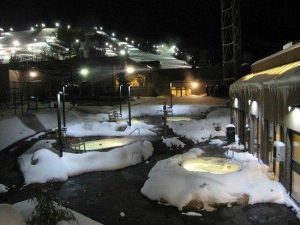 Imagine a spa where all of the senses are stimulated. Where the skin feels warm from the nurturing touch of the therapist, the muscles feel soothed and relaxed, where aroma therapeutic oils and flowers tantalize the sense of smell. Indulge in pampering at our top-ranking spa. Located within the beautiful Blue Mountain Inn at Blue Mountain Resorts, Kalola is one of the largest spas in the region, with seven treatment rooms. In addition to our wide range of spa and salon services, we offer a spacious lounge, indoor swimming pool and hot tub, dry sauna and four amazing outdoor hot tubs for peace and tranquility.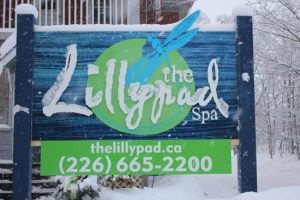 Visit the boutique soon to see the many products we have selected for your healthy lifestyle.Our staff has been chosen for their experience and caring personalities. Your time at The Lillypad is about you and our professionals respect that. We are continually upgrading our skills and mandatory training is done every quarter to ensure we are current.Our offerings go beyond being skin deep. We care about your wellness inside and out. The pedicure room at The Lillypad is bound to please. Our pedicure spas are the definition of relaxation with sanitary pipeless technology, ion cleansing and full shiatsu massage features. All implements used are either stainless steel, surgical steel, diamond or crystal to ensure proper sterilization standards are met.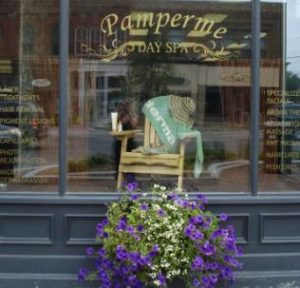 100% dedicated to helping you glow from the inside out; at Pamper me Day Spa we truly understand what it means to pamper you.From the moment you step into the Spa, our focus is to provide excellent customer service. Whether you are coming to spend the afternoon or buying product or gift certificates, we want your experience to be one you will remember.Our Spa was designed with you in mind. A respite from the chaotic outside world, Pamper me Day Spa is the serene and beautiful haven you often dream of. We combine natural products with a clean elegant décor to envelop you in peace and comfort. Treat yourself to some well deserved relaxation. Catch up with girlfriends, have a mani and pedi with a light lunch. Bring your partner in for a relaxing couples massage or maybe it is time to indulge in that body treatment you have been promising yourself. Whatever reason you have for visiting our Spa, we guarantee you will leave feeling relaxed, refreshed and revitalized.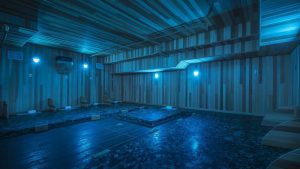 iwa Spa Blue Mountain Village
Come experience iwa spa Blue Mountain, located right in the Blue Mountain Village. Try something new in our gan•ban suites and studio. Pamper yourself in one of our private spa suites or de-stress in our beautifully appointed massage and reflexology rooms. Practice yoga in our garden or Gan•ban studio. Our state-of-the-art custom built pedicure bench provides a stunning vista of Blue Mountain Village. Relax in one of our comfortable lounge areas while sipping on specially blended iwa tea. Come as an individual, group or couple. We look forward to welcoming you.Our name "iwa" translates to rock in Japanese. iwa not only reflects the unique aspects of the Gan•ban Volcanic Rock Therapy, it also declares our vision to Inspire Wellness Always. At iwa we measure our success through smiles , laughter and how great you feel. This is our inspiration. Please let us be part of your wellness journey.